As an Amazon Associate we earn from qualifying purchases.
Have you recently purchased a hoverboard and are struggling to connect it to your Bluetooth device? Don't worry, you're not alone! Many hoverboard owners have faced this issue and it can be frustrating when you're unable to listen to your favorite tunes while cruising around on your hoverboard.
But fear not, connecting your Bluetooth device to your hoverboard is a simple process that can be done in just a few easy steps. In this article, I will guide you through the process of connecting your Bluetooth to your hoverboard and provide some troubleshooting tips if you encounter any issues.
By the end of this article, you'll be able to ride your hoverboard in style while listening to your favorite music! So, let's get started on connecting your Bluetooth to your hoverboard.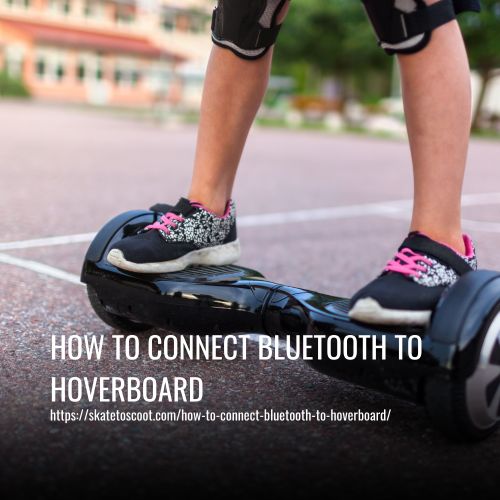 What is a Bluetooth hoverboard?
A Bluetooth hoverboard is an electric scooter that is equipped with a Bluetooth receiver and built-in speakers. The speakers are quite powerful and can play music wirelessly from your mobile devices.
This allows you to control the music, adjust the volume, or pause the track without having to stop and get down from your hoverboard. It is the perfect option for anyone who wants to listen to music while cruising around without the need for an additional MP3 player.
How to turn on Bluetooth on a hoverboard?
Turning on Bluetooth on a hoverboard is a simple process. Once you turn on your hoverboard, Bluetooth automatically starts. There is no need to manually turn it on. As long as your hoverboard is functioning, then the Bluetooth is also working.
How does a hoverboard Bluetooth work?
Hoverboard Bluetooth works by connecting the Bluetooth receiver module to the hoverboard's speakers. You may have to switch on the Bluetooth on some devices after turning on the hoverboard, but not always.
The hoverboard's Bluetooth feature scans nearby devices for connection. Once connected with a smartphone, the built-in speakers allow for music playback.
How to Pair Hoverboard Bluetooth to iPhone
Pairing your hoverboard's Bluetooth to your iPhone is a great way to enjoy your favorite tunes while cruising around on your self-balancing scooter. Here are the steps to connect your hoverboard to Bluetooth:
Step 1: Turn on your hoverboard and wait for the sound. If you do not hear any sound, your hoverboard may not be Bluetooth-capable.
Step 2: Open the Settings app on your iPhone.
Step 3: Navigate to the Bluetooth option and wait for the list of available devices to populate.
Step 4: Scroll down to the bottom of the list and select the open Bluetooth signal to connect to the hoverboard.
Step 5: Once the hoverboard and iPhone are paired, you will hear another sound signal from the hoverboard.
Step 6: To play music, open up your favorite music app and start the music. Enjoy your ride with your favorite tunes.
This simple process can also be used to pair your hoverboard with any other Bluetooth-enabled mobile device whether an Android phone, tablet, or any other compatible device. In case, you face any difficulty regarding the same, feel free to contact the customer service of your hoverboard model.
Always remember to ride your hoverboard only on smooth surfaces and flat surfaces since the fore lights use a horizontal plane to detect the logic board. Also, check out your hoverboard device product manual, along with your Privacy Policy to stay updated with the developments of the brand and avoid any misunderstandings.
Pairing Your Hoverboard's Bluetooth With Android
Step 1: To connect your hoverboard's Bluetooth to your Android phone, make sure your hoverboard device is turned on.

Step 2: Turn on the Bluetooth feature on your Android phone by opening the Settings app.

Step 3: Look for the Bluetooth feature in the Settings app and turn it on. Remember, your Android phone's Bluetooth needs to be turned on to connect with your hoverboard.
Step 4: With your hoverboard's Bluetooth turned on, your Android phone will display a list of nearby Bluetooth devices to connect with.

Step 5: Look for the name of your hoverboard in the list of available devices and select it. You may find your hoverboard's name or it could be listed simply as 'Bluetooth'.

Step 6: Follow the instructions that appear on your phone screen to sync your Android device with your hoverboard's Bluetooth receiver module.

Step 7: Once the pairing is done, open the music app on your Android phone and select your favorite song or playlist. Enjoy your ride with your favorite tunes playing through the powerful speakers of your Bluetooth-enabled hoverboard.
Why is my hoverboard Bluetooth not working?
If you're having trouble connecting your hoverboard to Bluetooth, here are some potential reasons why it's not working and what you can do to fix it. However, it's important to exercise caution and avoid attempting to troubleshoot while riding, as this can be dangerous. Some common issues that could be causing connectivity problems include a low battery, network interference, or an out-of-range device.
To resolve these issues, try ensuring that your hoverboard is fully charged, moving to an area with a stronger network connection, or moving your device closer to your hoverboard. You may also need to check your device's Bluetooth settings or uninstall and reinstall the app that controls your hoverboard's Bluetooth. If you're still experiencing issues after trying these steps, customer service may be able to assist you further.
Bluetooth is not turned on
To connect Bluetooth to your hoverboard, you need to make sure that both the hoverboard and your smartphone's Bluetooth are switched on. If you're having trouble connecting, it's possible that the hoverboard's Bluetooth is not turned on. In this case, you can simply turn the hoverboard off and on again to automatically activate Bluetooth.
If that doesn't work, disconnect the hoverboard from the Bluetooth list on your smartphone and try to reconnect again. Always keep in mind that if the hoverboard can't find a connection within two minutes, it will automatically turn off to conserve battery life.
Out of range
If you're unable to connect your mobile device to your Bluetooth-enabled hoverboard, it may be due to being out of range. (Note that hoverboards have a limited range of only a few meters.) If this is the case, simply bring your mobile device closer to the hoverboard until it is within pairing range. Once the device is within range, you should be able to easily connect it to your hoverboard.
Low battery
To use the Bluetooth feature on your hoverboard, you need to check the battery level first. To ensure the smooth functioning of the Bluetooth module, the device should have enough battery life. Otherwise, the Bluetooth module will automatically turn off and won't function, leaving you unable to connect to your mobile device or speakers. So keep a check on the battery level to avoid any inconvenience while using the hoverboard's Bluetooth feature.
Many devices connected
Disconnect other Bluetooth devices for a while as having too many connected devices can cause a connection problem. By reducing the number of connected devices, the Bluetooth signal can be strengthened to establish a connection between the hoverboard and the phone.

To further increase the chances of a successful connection, try rebooting the hoverboard and phone. Sometimes, a temporary glitch or system failure can cause connection issues. Rebooting the devices can help reset the system and fix the problem.
Out of calibration
If you're experiencing issues with your hoverboard not responding properly or not balancing correctly, it may be out of calibration. This can happen over time or due to rough use. To fix this issue, you may need to calibrate your hoverboard.
How to reset the Bluetooth of a hoverboard?
To reset the Bluetooth of your hoverboard, you can follow these simple steps. First, ensure that your hoverboard is fully charged and disconnected from any nearby devices. Then, locate the silver power button on the side of your hoverboard and place it on a flat, level surface.
Hold down the power button for 5 seconds without tilting the hoverboard, and you should hear a sound and see flashes on the fore lights and Bluetooth. Leave it for at least 10-15 seconds and then press the power button once to complete the reset process.
Your hoverboard is now ready to use, and you can restore the Bluetooth connection by pressing the power button to turn it on. By following these steps, you can fix common issues with Bluetooth connections and speaker problems on your hoverboard.
Hoverboard Bluetooth App
The Hoverboard Bluetooth App is a useful tool for hoverboard riders. It offers features such as speed control, pre-set routes, and remote control. Additionally, it allows users to monitor their battery life and track their riding statistics, which makes it a valuable app for all hoverboard riders.
The Bluetooth protocol for hoverboards has become increasingly popular, mainly because it allows users to connect their mobile devices to their hoverboards. To use this feature, we need to have an Android version greater than 4.3.
Additionally, different apps such as Swagtron and Towerboard make it possible to monitor the hoverboard's speed, distance traveled, battery status, and even temperature. Therefore, this app is highly recommended for all hoverboard enthusiasts who desire a fun and safe riding experience.
How To Connect Hoverboard To App
Connecting your hoverboard to an app can be done via Bluetooth or with a special cable that comes with the hoverboard. To connect through Bluetooth, ensure that both the hoverboard and mobile device are Bluetooth-enabled and have their Bluetooth turned on. Then, search for nearby devices on your mobile device and select the hoverboard.
Once paired, you can now control the hoverboard through the app on your mobile device. If connecting with a cable, simply connect the cable from your mobile device to the hoverboard and the app should automatically launch. Note that the app should be running iOS 8.0 or higher.
Why Won't My Hoverboard Bluetooth Connect?
To connect your Bluetooth-enabled hoverboard to your mobile device or tablet, ensure that Bluetooth is enabled on both the hoverboard and the device you wish to connect it with. If you encounter difficulties, there are various troubleshooting steps you can take.
For optimal performance, it is recommended to avoid troubleshooting Bluetooth connectivity while riding the hoverboard and to calibrate on a level surface. Additionally, ensure that no more than three mobile devices are paired with the board at a time.
If the hoverboard is not connecting to the mobile device even after all attempts, it is plausible that the receiver module may not be functioning correctly. In such instances, one may need to replace the Bluetooth receiver or seek assistance from customer service.
Tips
Connecting your hoverboard to a wireless Bluetooth device can be a simple process if done correctly. Here are some tips to consider when connecting your hoverboard to a mobile device or tablet:
Android Phone and iPhone
Android Phone:
Accessing the system settings on an Android phone is the first step to turning on Bluetooth. There are slight variations within each operating system, so it's best to become familiar with the system's settings before attempting to connect to the Bluetooth module on the hoverboard.
iPhone:
To connect to the Bluetooth module on a hoverboard, the first step for iPhone users is to access the system settings. Each major smartphone operating system has a slightly different method for accessing the settings, so it's important to become familiar with the iPhone's operating system before attempting to turn on Bluetooth and connect to the hoverboard.
Playlists
When riding a Bluetooth-enabled hoverboard, it's a good idea to have a playlist ready to go on your mobile phone. This allows you to limit the amount of time you spend fiddling with your device while the hoverboard is in motion. To avoid distractions, create a playlist with your favorite music or audio files before riding your self-balancing scooter. Most music apps and even podcast platforms offer the simple functionality of making playlists for easy listening.
Riding Modes
Hoverboards typically come with multiple riding modes that provide different top speeds. These modes can be adjusted via the power button on the board itself or through a mobile device connected via Bluetooth. Riding modes play a significant role in enhancing the riding experience by allowing the user to choose a speed that suits their specific needs.
For instance, the proximity of nearby devices might call for a slower speed, whereas smooth surfaces might warrant higher ones to achieve maximum efficiency. Most hoverboards also come with LED lights, fore lights, and balancing technology that works in tandem to improve the overall stability and safety of the rider. Riding modes, therefore, provide an array of design qualities that cater to a wide variety of users, promising a fun, enjoyable ride every time.
LED Lights
Hoverboards come equipped with visually attractive LED lighting systems incorporated in their designs. These illumination methods usually cover the entire expanse of the device's structure, lending it an eye-catching aesthetic appeal. As you ride your hoverboard, the LED lights offer an exciting display that can augment the enjoyment of your favorite tunes or audio shows, responding fast to the beats.
LED Lights play an essential role in creating a unique hoverboarding experience. The brilliant colors and high-speed pattern changes accompany your ride and ensure you stand out at any party or gathering. Thanks to these illumination methods, a hoverboard is an excellent alternative to your ordinary transportation and can quickly transform any mundane ride into a fun adventure.
Warnings
Before we dive into the steps of connecting Bluetooth to your hoverboard, there are a few important warnings to keep in mind. These precautions are crucial to ensure your safety while using your hoverboard and will also help prevent damage to your device. Please take the time to read through these warnings carefully before proceeding to connect your hoverboard to Bluetooth.
Not All Hoverboards Have Bluetooth
If you're looking to ride your hoverboard while enjoying your favorite tunes, be aware that not all hoverboards have Bluetooth capabilities. While it's common for modern hoverboards to come with Bluetooth technology, some models do not come equipped with this feature. To avoid disappointment, make sure to read the specifications before purchasing your hoverboard.
To ensure that your hoverboard can connect via Bluetooth to your nearby devices, check for a Bluetooth-enabled hoverboard with a wireless connection standard. Additionally, some hoverboards come with powerful speakers and LED lights, enabling you to listen to music and create a fun atmosphere while riding. Simply check the product manual for instructions on how to pair your hoverboard with your mobile phone or favorite music app.
Safety First
When it comes to hoverboard riding safety, there are a few things to keep in mind. While it's a thrilling and enjoyable ride, it's important to exercise caution. Whether listening to music through built-in speakers or riding in crowded areas, always be mindful of your surroundings. Riding at lower speeds in populated areas can also prevent accidents and injuries. Always prioritize safety above all else to ensure a fun and safe ride.
Battery Life
When using Bluetooth on your hoverboard, it's essential to be mindful of your battery life. The continuous use of Bluetooth can cause your hoverboard's lithium-ion battery pack to drain quickly. In case you want to prolong your ride time, one option is to turn Bluetooth off for a while to conserve the battery.
You should also consider reducing your riding speed as powering the hoverboard at higher speeds will also consume more battery. By doing these things, you can extend your hoverboard's battery life and overall ride time.
Remember to End the Connection
To ensure the longevity of your battery life, it's essential to remember to end the connection between your mobile device and your Bluetooth-enabled hoverboard. After your ride, disabling Bluetooth will prevent your phone from continuing to stream audio to your hoverboard, serving as a quick and easy way to conserve power.
If you notice that no sound is coming from your phone after a ride, forgetting to end the connection may be the issue. Simply remember to disconnect the Bluetooth to ensure smooth operation during your next fun ride.
FAQs
What is the difference between a regular hoverboard and a Bluetooth hoverboard?
When it comes to a regular hoverboard and a Bluetooth hoverboard, the main difference is the addition of Bluetooth technology in the latter. Bluetooth hoverboards have a built-in receiver module and speakers, enabling users to connect their mobile devices smoothly and stream music or other audio content wirelessly while enjoying the ride.
So, if you want to cruise around on a hoverboard while listening to your favorite music or any other audio, a Bluetooth hoverboard might be a great option for you.
Will your phone work with the hoverboard?
Yes, all iOS or Android phones are compatible with Bluetooth-enabled hoverboards. To connect your mobile device with the hoverboard, you can download the corresponding app and set a Bluetooth connection. This will allow you to access important information about your ride through your phone, including battery life, LED lights, and even playlist control.
How much does a hoverboard Bluetooth cost?
Hoverboards with Bluetooth technology nowadays vary in price, usually ranging from $100 to $300 depending on quality and features. However, it's important to note that there are even more expensive models available on the market.
What kind of phones do Bluetooth hoverboards work with?
Bluetooth hoverboards work with most modern smartphones that have Bluetooth audio streaming capability. This includes both iOS and Android-based smartphones, which usually come with built-in Bluetooth.
Even basic smartphones should be compatible with Bluetooth hoverboards as long as they have Bluetooth connectivity. Therefore, you don't have to worry about device compatibility as long as your phone is not an outdated flip phone.
How to connect Bluetooth to the hoverboard?
Connecting your Bluetooth-enabled hoverboard to your mobile device is an easy process. First, turn on your hoverboard and look for the power button. Make sure it's turned on and the battery life is sufficient. Next, ensure that your mobile device has Bluetooth on. Then, go to your mobile device system settings and look for the Bluetooth option.
How do you stream music to your Bluetooth hoverboard?
To stream music to your Bluetooth hoverboard, you need to connect your phone's Bluetooth transmitter to the hoverboard's receiver module. Once connected, you can simply play your favorite song or podcast on your phone and the hoverboard's speakers will play the audio automatically. Ensure that the hoverboard is within the pairing range and on a flat surface before attempting to connect your phone.
Which hoverboard has Bluetooth?
Bluetooth-enabled hoverboards are available in the market, and most modern hoverboards feature Bluetooth and related built-in speakers. However, it is important to note that some lower-priced models may lack this feature. As a buyer, it is recommended to read all of the hoverboard's fine print and related documentation before making a purchase to ensure that it has Bluetooth connectivity.
This feature lets you pair your hoverboard with your mobile device and enjoy a wide variety of streaming apps while balancing on the board and listening to your favorite songs. So, if you are looking for a hoverboard with Bluetooth, make sure to check the product manual and related details regarding wireless connection standards and product design qualities.
Do all hoverboards play music?
Hoverboards typically come equipped with built-in speakers and Bluetooth capabilities, allowing users to connect and stream audio through their devices. However, it is important to check the product's manual for instructions on how to connect your mobile device and to confirm whether the hoverboard is compatible with Bluetooth-enabled devices.
What are the advantages of Bluetooth hoverboards?
Bluetooth hoverboards offer several advantages compared to traditional hoverboards. By using Bluetooth technology, these hoverboards can connect to your mobile device through a special application, allowing you to monitor the device's diagnostics and control it. This enables you to track your journey's distance and speed accurately.
Conclusion:
Connecting your hoverboard to Bluetooth is a quick and easy process that can enhance your riding experience. With just a few simple steps, you can enjoy your favorite tunes while cruising around on your hoverboard.
So why wait? Connect your Bluetooth today and take your hoverboard to the next level!
Amazon and the Amazon logo are trademarks of Amazon.com, Inc, or its affiliates.