As an Amazon Associate we earn from qualifying purchases.
Carrying around multiple pairs of skates or even just one skate can be difficult when you're on the go, which is why many skaters end up frustrated or inconvenienced when they're trying to enjoy outdoor skating activities. Getting around with your roller skates is easier when you use these helpful tips.
From getting a handheld bag specifically designed for carrying your skates to simply attaching them to your backpack with carabiners – these tips will help you keep your skates secure and make getting around much easier!
There are five main ways to carry your roller skates:
Pack your inline skates in an inline skate bag for easy transport.
Put your inline skates in a durable shopping bag for easy carrying.
You can use laces from your inline skates to make a shoulder strap.
Put the buckle straps to use as a handle for carrying.
Link your rollerblades to your boots using their straps.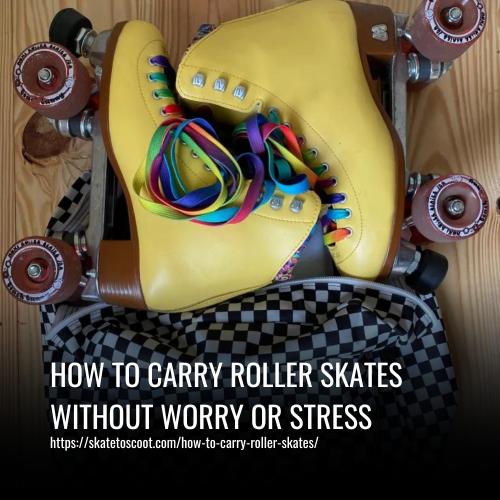 1. Pack your inline skates in an inline skate bag for easy transport.
If you're looking for the most convenience when it comes to carrying your inline skates from one place to another, then a rollerblade-specific bag is the way to go. These bags are specifically designed to accommodate everything you need for your little skating sessions, such as knee pads, elbow pads, and extra accessories like a helmet or water bottle.
In addition to having plenty of room for all your skating gear, these bags often have a robust construction with a reinforced bottom which makes them great if you plan on doing more serious skating outdoors as they can handle all the moves and abuse that throwing around with them entails.
So if you're in need of an efficient way of moving your skates around don't forget that an inline skate bag is a perfect option!
2. Put your inline skates in a durable shopping bag for easy carrying.
When you're going somewhere just for a short period, or just to a nearby place, chances are you can get by by carrying your roller skates in your hand or in a regular shopping bag. It's free, it's available whenever you need it, and it's the most convenient option if you don't have anything else to transport your skates with.
However, if you've got a lot to bring with you – classes and pads and whatnot – then an ordinary shopping bag might not fit everything in your backpack. That's when a reusable shopping bag comes into the picture. This way, you can toss your inline skates into this separate bag so they won't take up space in your main backpacking area. After you've finished skating and wearing sneakers during exercising at the gym, you can easily stash them inside this reusable bag and carry them off separately – easy peasy lemon squeezy!
3. You can use laces from your inline skates to make a shoulder strap.
When it comes to carrying your roller skates, the simplest way is in a reusable shopping bag or your hands. But for more convenience and comfort if you're carrying them for long periods, why not use your skate laces as a shoulder strap?
This idea is especially useful if you've got a lot of other things that need to go in your backpack. Gym rats, college classes, inline skates – all these items aren't exactly compact, so if you want to be able to fit it all in, making use of the laces of your skates will help.
Simply thread through the laces to make up an easy carry loop that can comfortably sit on your shoulder with no stress. This way once you've done their work at the gym and are ready to skate back home, you can easily slip on your sneaks and hoist the skatebag over your shoulder before you cut loose.
It's simple yet effective, plus convenient – and makes carrying all that extra gear much easier!
4. Put the buckle straps to use as a handle for carrying.
Carrying your roller skates on the go is easy with Velcro straps! Just stick the parts with the velcro together and use the straps to hold the skate as you move around. This is a great option for those quick, recreational skate trips and it's much faster than having to find something other than your hands to carry your skates in.
The Velcro straps don't just have to stay attached to your boot though – they can also act as a carrying handle! After sticking them together, simply leave them slightly loose so that you can grip the Velcro handle and swing it easily while holding onto it. No bouncing around while walking or running either, since you'll have a secure handle on each side of your body that helps hold everything in place.
This also makes it easier to take public transportation with your roller skates if you need to – just make sure you keep an eye on them when moving through busy areas!
5. Link your rollerblades to your boots using their straps.
Carrying your rollerblades can be a bit tricky, especially if you don't have a bag or backpack with you. But did you know that you can carry them by their boots' straps? All you need to do is put two of your fingers on each strap at the back of each rollerblade and then walk around carrying them in your hands! Of course, it won't take long before losing circulation in your fingers becomes an issue, but that's easily solved by just switching hands every now and then.
This is definitely the best way of carrying your rollerblades if you're only going short distances – whether at home or out skating on the streets. So next time when you don't feel like bothering with bags or backpacks for your rollerblades, use the humble bootstraps!
Is There a Decent Inline Skate Backpack?
When it comes to inline skate backpacks, one of the best options on the market is the Rollerblade Multisport Urban Commuter Backpack. It may be a little pricey, but it's worth every penny – plus you get the added bonus of looking like a serious skater with Rollerblade branded on the side.
The backpack features well-padded straps for comfortable carrying and wheel covers to keep the interior clean and free from dirt or grime. It'll also fit most laptops inside, so you won't have to leave your tech at home!
However, if you are wearing larger-sized boots or skates such as size 11 or above then this backpack won't suffice. Also, if you have beginner blades with a heel brake attached you'll need to look elsewhere as this particular backpack isn't designed to accommodate those particular needs.
For added practicality, there are two mesh side pockets where you can easily store your water bottle. The only downside I found was that when everything is packed inside this bag it does become quite bulky which doesn't make for a pleasant carrying experience!
What Is The Best Way To Carry Roller Skates For You?
When it comes to finding the best way to carry your roller skates, you should ask yourself a few questions: How long will I be skating? How many pairs of skates am I carrying? And how far do I have to travel? Answering these questions can help you determine which option is best for you.
For longer sessions or multiple pairs of skates, then a roller skate backpack or bag with a velcro strap may be your best option. This will ensure that your skates stay secure and comfortable during your travels. Shorter distances or one pair of skates could be carried by hand in this manner as well.
At the end of the day, what works best for you is up to you and depends on how often you go skateboarding, how many pairs of roller skates are being carried, and how comfortable you want to be.
Everyone has their own technique when it comes to roller skating – find the one that works best for you!
How To Put Roller Skates In Bag?
When putting your roller skates in a bag or backpack, it is essential to do so properly to ensure they remain safe and secure. First, make sure the bag or backpack is large enough for the skates, and that nothing in the bag is too tight or crammed together.
Next, add some cushioning material on the bottom of the bag such as a towel, clothes, or even just a pair of socks to protect the skates from damage if dropped.
If you have multiple pairs of roller skates, store them in separate sections in one bag to avoid friction.
Finally, strapping on the back should be comfortable so you can easily carry it without strain. If done correctly, these extra steps will make sure your roller skates are properly protected!
Tips for Carrying Roller Skates Around
Traveling around with your roller skates can be a hassle, but there are a few tips that will help make the process easier. The first is to stash them in your backpack. This way, you won't have to worry about carrying them around separately.
The second tip is to tie the boot laces together and make a shoulder strap. This way, you can keep both hands free while easily carrying your skates over your shoulder. Another option is to use the Velcro patches on your roller skates to stick them together and make a carrying handle. Lastly, you can simply grab the straps of your roller skates and carry them using just your fingers!
No matter which strategy you choose, knowing how to carry roller skates will help make travelling around much easier.
FAQs
How do people carry roller skates?
The way people carry their roller skates depends on their needs. For longer skating sessions, a decent roller skate backpack, bag, or velcro strap is recommended. For faster trips or carrying more than one pair, it's better to carry them in the hand or by the shoulder.
How do I carry my skates on the bus?
It's advisable to transport your skates by carrying them in a bag or backpack while on the bus. This way, they won't take up too much space and will be better protected from wear and tear.
It's also important to hold onto the bag tightly so that it doesn't swing around and hit other people as you walk on the bus. In addition to carrying your roller skates with you, it's also a good idea to learn how to take proper care of them to ensure that they last for a long time without any damage.
Can I take roller skates as carry-on?
If you love roller skates and you need to travel on a plane, then you may be wondering if it's possible to take them as carry-on. The good news is that it is usually possible – but it's always best to check with the airline first. That way, you can make sure that your roller skates comply with the airline's rules and regulations regarding acceptable carry-on items.
Each airline has different policies about what can be taken on board, so do some research before booking your flight. That way, you won't be stuck trying to cram your roller skates into an overhead bin or risk being denied boarding at the gate. Taking a few minutes to double-check will save you time (and money!) in the end!
How Do Roller Skate Straps Work?
Roller skate straps, also known as skate nooses or skate leashes, provide a convenient way to transport your rollerblades. The secret is in the loops; once you've formed two loops using the strap, you'll place your skates in them and pull tightly on the strap until secured. Then, you'll simply throw it over your shoulder and you're off!
The design of these straps ensures a wider area of weight distribution for your boots. This prevents strain on your shoulders from lugging around too much weight in one area, plus it keeps those roller blades close by when you need them. So next time you're getting ready for an epic adventure with your roller blades, don't forget to pack up with some reliable roller skate straps for maximum convenience!
How Do I Carry My Skates on a Bike?
If you need to transport additional items such as a water bottle, the most effective way to take your skates with your bike is by putting them in a backpack. Another chance is to fix your skates on the back rack of the bike.
Another option is to connect the laces of your skates and hang them on the handlebars of your bike.
How Do I Pack Roller Skates for Travel?
If you're looking to take your roller skating gear on a journey, you'll need to know the right way to pack it. Fortunately, packing your skates for travel is easy. All you need is a carry-on bag and a backpack. With its ample space, the carry-on bag can easily store your skating equipment, apparel, and shoes in the overhead storage area in a plane or a car trunk.
When packing for a trip, make sure to include the necessities in your backpack such as a laptop and toiletries which will be useful during your journey. With this simple system, you not only avoid paying sky-high checked bag fees but also make sure that your roller skates are safe and sound!
Conclusion:
Roller skates can be a great way to get around, both for transportation and fun! If you're wanting to carry your roller skates with you, then learning how to attach a bed or straps is the best way.
Additionally, learning the best practices for carrying your skates in a bag will help ensure they are protected. With these tips, you'll be ready to take your roller skating skills from home to the street safely and conveniently.
Amazon and the Amazon logo are trademarks of Amazon.com, Inc, or its affiliates.