As an Amazon Associate we earn from qualifying purchases.
If you own a hoverboard and want to add some personal flair to it, customizing it is a fun and easy way to do so. Whether you're interested in adding LED lights, decals, or completely changing the color of your hoverboard, there are plenty of options to choose from. Customizing your hoverboard is also a great way to make it stand out and show off your style.
There are many ways to customize your hoverboard both with DIY methods or with pre-made products such as vinyl skins and decals. In this article, we'll explore a range of tips and tricks to help you create the coolest and most unique hoverboard on the block. From adding custom LED lights and foot pads to vinyl wrap and custom paint jobs, we'll cover everything you need to know to make your hoverboard truly one-of-a-kind.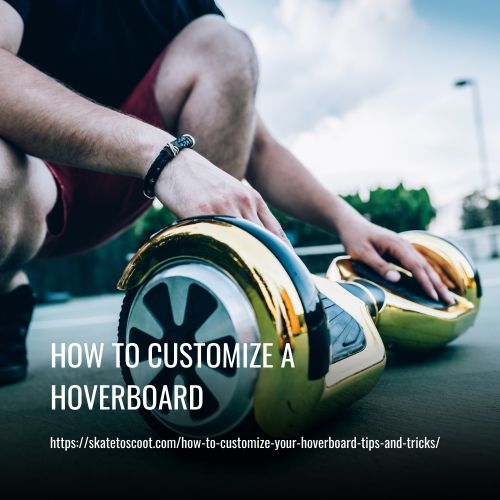 Custom Hoverboards:
Hoverboards are a popular personal transportation device but many brands may appear generic without customization. Personalizing a hoverboard not only makes it unique but also adds a layer of immersive experience to the ride. Minimalist designs, preferred by adults, may not appeal to kids who desire flashy, futuristic, or colorful designs.
Recognizing this, Razor and some other businesses provide multiple color options for their hoverboards. There are several ways to customize a hoverboard while staying within an affordable price range. The options include using LED lights, hoverboard decals, custom skins, vinyl wrap, spray paint, reflective or traditional stickers, and designer duct tape. Rubber foot pads can also be replaced with vinyl skins for a personalized look.
Customizing a hoverboard requires extra time and effort but can be achieved both professionally and through DIY customization. Some pre-made hoverboard skins are also available for purchase online. It is important to note that harsh weather conditions may affect the customization, so cleansing wipes should be used to ensure the hoverboard stays clean and appealing. Customization items can be purchased from external sources through affiliate links or from an online retailer.
Design the Hoverboard Yourself
If you're looking to customize your hoverboard but can't seem to find the perfect design out there, don't worry! You can always create your own. Using traditional stickers or colored duct tape, you can create a unique design tailored to your liking. Before starting, make sure you have an X-Acto knife and other necessary tools like cleansing wipes if needed.
It's important to proceed cautiously and work slowly to avoid creating overlap and compromising the board's usage. Once you're satisfied with your design, go over it with the X-Acto knife and carefully cut around essential components like the lithium-ion battery port and LED lights.
Don't limit yourself to just duct tape or stickers either – you can utilize vinyl skins or wraps, spray paint, or even designer duct tape to elevate your hoverboard's style. Remember, the options are limitless, so feel free to explore and create your own personalized design.
Hoverboard Skins & Stickers
Hoverboard skins and stickers are popular options for customizing your hoverboard. With a wide variety of sizes, shapes, and designs, you can easily find an option that suits your style. From sleek and simple solid colors to vibrant and fun prints, the possibilities are endless.
Amazon is a great place to start browsing the wide range of hoverboard skins available. However, keep in mind that not all skins may be compatible with your particular hoverboard model. It's important to double-check and ensure that the skin you choose is compatible before making a purchase. If you're not sure about the compatibility, contacting the seller can provide clarification.
Whether you're looking for a minimalist design or something more eye-catching, hoverboard skins and stickers can provide a fun and affordable way to personalize your hoverboard and make it stand out from the crowd.
Custom Hoverboard Skins:
Custom hoverboard skins are a great way to customize your hoverboard to fit your personal style. Purchasing these skins is a hassle-free process, and sellers typically provide a wide variety of designs to choose from, including floral prints, space designs, camouflage, and more.
You can purchase hoverboard skins from online retailers like Amazon by typing in your hoverboard model in the search bar to ensure compatibility. These skins are easy to apply, similar to a case for your smartphone.
Additionally, you can paint your hoverboard with traditional brush-based paint or spray paint for a completely personalized look. It's important to note that if you live in an area with harsh weather conditions, it's best to use vinyl skins or wraps to protect your hoverboard from the elements. Customizing your hoverboard with skins or paint can be an affordable way to create a cool and unique personal transportation device.
Add Stickers:
Customizing your hoverboard can be easily achieved with the use of stickers and decals. These items can be purchased from various online retailers such as Amazon or even sourced from your own personal collection. Stickers and decals not only add a layer of personalization to your hoverboard but also make it visually appealing.
Adding stickers is a simple way to make your hoverboard stand out. You can carefully choose the placement and style of your stickers to make your hoverboard unique and reflective of your personal style. Racing car enthusiasts, for example, can add racing-themed stickers to give their hoverboards an authentic look and feel.
Customizing your hoverboard with stickers is an affordable way to personalize your personal transportation. Simply paste your chosen stickers onto your hoverboard as desired. One option for added security is to use vinyl skins or wraps to protect the stickers from harsh weather conditions. For those who prefer a minimalist design, designer duct tape and a straight edge can be used to create a customized look.
When purchasing items through links, it's important to disclose any affiliate relationships. Additionally, you can clean the surface of your hoverboard with a cleansing wipe before applying any stickers or decals. With a wide range of designs and colors available, the possibilities for customizing your hoverboard are endless. Give your hoverboard the cool factor with a simple addition of stickers.
Painting your Hoverboard:
One way to customize your hoverboard is by painting it yourself instead of using pre-made skins or stickers. While it requires more effort and time, it can be a fun and rewarding activity. To paint your hoverboard, you will need spray paint cans, paint tape or covering tape, and optionally, sandpaper.
Before painting, make sure to tape up areas that you don't want to paint, such as the LEDs, foot pads, connectivity ports, and buttons. It's also essential to clean the surface for a smooth finish. If there are dings or scratches, use sandpaper to smoothen the surface.
Once everything is ready, spray the first layer of paint and wait for it to dry. When dry, you can proceed to spray the second layer or use different colors for specific regions. Be creative and have fun with your preferred design.
Do it Yourself Customization:
Nowadays, DIY tasks have become a new trend and hobby for most people. To save money on customizing a hoverboard, you can create designs yourself using affordable materials from the store or items you already have at home. DIY customization provides an opportunity to unleash your creativity and it can be a fun activity to do with your child.
For the customization process, you can use an X-Acto knife, stickers, colorful tape, and reflector tape. These materials can be found at your local dollar store. With the X-Acto knife, you can cut the colorful and designer duct tape to fill in the parts of your hoverboard and arrange them as you wish. Remember to tape up areas such as the LEDs, footpads, and buttons that you don't want to paint.
Make sure to clean the surface beforehand for a smooth finish and use sandpaper to remove any dings or scratches. With a wide variety of materials and designs available, the options for DIY customization are endless.
Do all of the Above
To fully customize your hoverboard, you have a variety of options. One popular method is to paint the hoverboard and add stickers. This can be achieved by using traditional brush-based paint or spray paint. Adding vinyl stickers or decals is also an option. You can purchase pre-made skins or create your own by using a vinyl wrap or designer duct tape.
Another approach is to experiment with colors and designs. You can layer different shades of paint or use a variety of reflective and colorful stickers. Some hoverboard owners prefer minimalist designs, while others opt for eye-catching and colorful ones.
To ensure that your hoverboard looks great even in harsh weather conditions, consider using vinyl skins or covers. This extra layer of protection not only enhances the look of your hoverboard but also protects it from damage.
Whichever customization option you choose, make sure you are happy with the outcome. If you want to make changes later on, you can always try new colors, designs, or decals. At an affordable price, personalizing your hoverboard with the use of LED lights, foot pads, reflective stickers, and a lithium-ion battery could also boost your hoverboarding experience.
FAQs
Can I use spray paint on my hoverboard?
Yes, you can use spray paint to customize your hoverboard. It's important to take your time, prepare the board, and wait between coats to avoid streaks and drips. Spray paint will provide smooth, even coats for your hoverboard.
Can I use stickers for the customization of my hoverboard?
Yes, you can use stickers to customize your hoverboard! The great thing about stickers is that they are easily removable. If you get tired of your current design, you can simply remove the stickers and add a new set to create a completely different custom look for your hoverboard.
How do I get scratches off my hoverboard?
If you want to remove scratches from your hoverboard, use sandpaper. Be careful when using it, and test different grits to find the right one that won't cause more damage but can effectively remove the scratches.
Can you get a hoverboard wet?
Hoverboards are meant to be used outdoors, so they can get wet. However, most hoverboards are not designed to be submerged in water.
Can you wash a hoverboard?
Yes, you can wash a hoverboard! Simply use a damp cloth or pre-moistened cleaning cloth to wipe down the surface and keep it looking clean and fresh.
What things do you need to customize your hoverboard?
To customize your hoverboard, you may need tools such as spray paint, duct tape, stickers, an X-acto knife, and other materials depending on the type of customization you want to achieve.
What are some of the alternative methods of customizing a hoverboard?
There are several alternative ways to customize a hoverboard besides using a full-body decal. You can spray-paint the board or create your own design using traditional stickers and duct tape. Get creative and make your hoverboard unique!
What precautions do you have to follow while you design your own hoverboard?
When designing your own hoverboard, it's important to take some safety precautions. If you're painting it, make sure to tape up any important parts like charging ports and LED lights.
When applying decals, use a straight edge to remove any bubbles or deformities. Additionally, learn how to properly clean your self-balancing scooter before and after any project.
Should I use glue while customizing my hoverboard?
No, it's not recommended to use glue while customizing a hoverboard. Glue can damage the internal components and make riding the hoverboard unpleasant. If you're customizing a hoverboard as a gift, make sure to learn how to ship it safely before sending it off.
Conclusion:
Customizing your hoverboard is a fun and creative way to make it truly your own. Whether you want to add lights, decals, or even a Bluetooth speaker, the possibilities are endless. Just remember to prioritize safety and follow all manufacturer guidelines.
So go ahead and get creative – show off your unique style while cruising on your personalized hoverboard!
Amazon and the Amazon logo are trademarks of Amazon.com, Inc, or its affiliates.