As an Amazon Associate we earn from qualifying purchases.
Razor electric scooters are available in a wide price range, starting from around $120 and going up to $800. The cost varies depending on the specific model and features included. Factors such as the type of scooter, maximum speed, battery life, and additional features like suspension systems or brakes can affect the price.
Customers can choose from various options, catering to different budgets and requirements. Overall, Razor scooters offer a range of prices to suit both kids and adults looking for an efficient and enjoyable mode of transportation.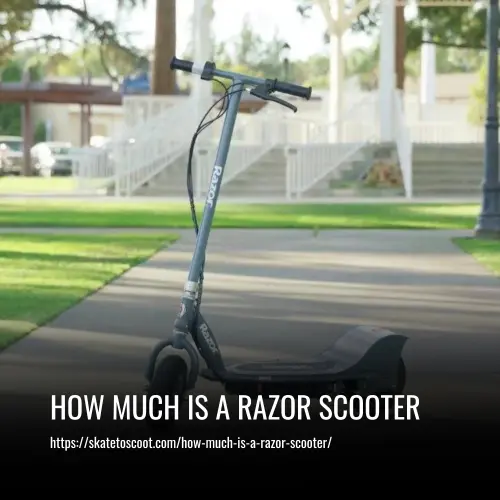 Different Models of Razor Electric Scooters and Their Approximate Cost
Razor offers a range of electric scooters suitable for riders of different ages and preferences. Here are some popular models and their approximate cost:
1. Razor E100
The Razor E100 is an entry-level electric scooter suitable for younger riders. Priced at around $150 to $200, it offers a maximum speed of 10 mph (16 km/h) and is designed for riders ages 8 and up.
2. Razor E200
The Razor E200 is a step up from the E100, priced at approximately $200 to $250. It offers a higher top speed of up to 12 mph (19 km/h) and features a larger deck and frame for added stability. This model is suitable for riders ages 13 and up.
3. Razor E300
The Razor E300 is one of the more powerful electric scooters from Razor, priced at around $250 to $300. It can reach speeds of up to 15 mph (24 km/h) and features a larger frame, wider tires, and a comfortable padded seat. It is designed for riders ages 13 and older.
4. Razor EcoSmart Metro
Priced at approximately $400 to $450, the Razor EcoSmart Metro is an electric scooter designed for eco-friendly commuting. It features a bamboo deck, a detachable luggage rack, and a comfortable seat. The EcoSmart Metro has a top speed of around 18 mph (29 km/h) and provides a range of up to 12 miles (19 km) on a single charge.
5. Razor Pocket Mod
The Razor Pocket Mod is a vintage-styled electric scooter with a European-inspired design. Priced at around $300 to $350, it offers a top speed of up to 15 mph (24 km/h) and a range of approximately 10 miles (16 km). This model is designed for riders ages 13 and up.
6. Razor E-Prime Electric Scooter
Geared towards adults, the Razor E-Prime Electric Scooter costs around $350 to $400. It can reach speeds up to 15 mph and its folding design makes it easily portable.
7. Razor E-XR Electric Scooter
For those looking for more advanced features, the E-XR costs around $550 to $600. Designed for adult riders, it can reach speeds up to 17 mph and comes with a 60V lithium-ion battery and front and rear disc brakes for improved stopping power.
Please note that these prices are approximate and may vary depending on the retailer and any ongoing promotions. It is always advisable to check the latest prices and availability before making a purchase.
Factors That Determine The Electric Scooter Cost
The cost of an electric scooter can vary depending on several factors. The size, style, features, and brand of the scooter all play a role in determining its price.
1. Power and Speed Output
The cost of an electric scooter can vary based on its power and speed output. The size and output of the motor play a significant role in determining how fast the scooter can go. If riders desire higher speeds, they would need a more powerful motor, which will likely increase the cost of the scooter.
2. Motor Type
Different types of motors are available for electric scooters, including belt, chain, and hub motors. Belt motors are quieter but wear out faster, requiring replacement during the scooter's lifespan. Chain motors are more durable and require less maintenance. Hub motors, the most common option, are reliable due to their lack of a chain or belt.
3. Range and Battery Life
The maximum range and battery life also impact the cost of an electric scooter. Razor scooters, aimed at kids, typically have limited ranges since they are not intended for long commutes. Some scooters offer higher voltage batteries and obtain UL certification, ensuring safety and longevity.
4. Design and Construction Quality
The design and materials used in the construction of an electric scooter can affect its price. Scooters made with premium materials such as military-grade or aircraft-grade aluminum will cost more than those made with standard aluminum. Components such as tires, absorption pads, and braking systems can also impact the overall price.
5. Ride Quality
The type and size of tires, shock absorption, and suspension influence the ride quality of an electric scooter. Off-road scooters designed for recreational purposes tend to cost more due to their enhanced components. Commuter scooters prioritize portability and may have lesser ride quality, while versatile models strike a balance between ride quality and weight.
6. Extra Features
The inclusion of additional features can contribute to the cost of an electric scooter. Some scooters offer Bluetooth connectivity, allowing riders to control settings and view diagnostics through a smartphone app. Different riding modes, LCD dashboards, regenerative braking, one-click foldability, and anti-theft features are among the various options available, with higher-end scooters typically equipped with more features.
7. Safety Features
Electric scooters come with various safety features, but the number and quality of these features can vary. Scooters with advanced safety features such as better headlights, braking systems, and acceleration capabilities may have a higher price tag.
Is It Worth Buying A Razor Electric Scooter
With the increasing traffic on roads and the desire for eco-friendly transportation options, electric scooters have become a popular choice for commuters. Razor electric scooters, known for their reliable performance and durability, are worth considering for those looking for a budget-friendly option.
These scooters offer a comfortable ride with their shock absorption and suspension systems, and their range and battery life can meet the needs of short commutes. While they may not have all the high-end features of more expensive models, Razor scooters provide a practical and cost-effective mode of transportation.
Overall, if you are seeking a convenient and environmentally friendly solution for your short commute, a Razor electric scooter is a worthwhile investment.
Advantages Of Razor Electric Scooters
Razor electric scooters offer a range of advantages that make them a popular choice among riders.
1. Affordable
Razor electric scooters offer an affordable option for those looking for budget-friendly electric scooters. Compared to other brands, Razor scooters come at a relatively lower price point, making them accessible to a wide range of consumers.
2. Easy to use and maintain
Razor scooters are designed to be user-friendly and require minimal maintenance. With simple operating mechanisms, these scooters are easy to use and operate, even for beginners. Additionally, they require very little maintenance, saving users both time and money.
3. Environmental friendly
One of the notable advantages of Razor electric scooters is their eco-friendliness. Unlike motorcycles and other vehicles that require gasoline, Razor scooters run on electric power, making them environmentally friendly and reducing carbon emissions. This makes them a great option for commuting on urban roads and streets without contributing to air pollution.
4. Convenient
Razor electric scooters are designed to be convenient. They are usually lightweight and have a compact size, allowing for easy maneuverability and storage. Some models even offer folding capabilities, making it effortless to carry them on public transportation or store them in small spaces. Compared to larger vehicles, Razor scooters provide a comfortable and convenient ride.
How to Choose the Right Razor Electric Scooter for Your Budget
When it comes to choosing the right Razor electric scooter for your budget, there are a few key factors to consider. By taking these factors into account, you can ensure you make a well-informed decision that meets your needs and fits your budget.
1. Intended Use
Determine how you plan to use the scooter. Are you looking for a scooter for commuting, running errands, or recreational riding? Consider foldable models like the E-Prime if you need a scooter that is easy to transport and saves space.
2. Rider's Age and Weight
Razor offers electric scooters designed for children, teenagers, and adults. It's important to choose a scooter that supports the weight of the rider and meets the recommended age guidelines.
3. Speed and Power
The top speed of Razor electric scooters can vary. Consider whether you will be using the scooter in areas with high-velocity traffic or if a slower speed is preferable for safety reasons, especially when choosing a scooter for a child.
4. Battery Life
Battery performance and run time can vary across different models. Consider whether you need an extended battery life for longer rides or if a shorter range is sufficient for your needs.
FAQs
Where can I buy an electric scooter?
You can purchase electric scooters from a variety of places, including major retailers such as Walmart, Target, K-mart, and Sears. Additionally, you can find electric scooters at local shops and online stores like Amazon.
What is the best electric scooter for kids?
The best electric scooter for kids will depend on factors such as their size, riding ability, and safety features. Some kids with more experience may prefer a model that can go over 10 miles per hour. One highly recommended option is the Razor Power Core E90, suitable for kids 8 years old and up.
What is the best electric scooter for adults?
The best electric scooter for adults will depend on the intended purpose. For commuting, choose a scooter with decent speed and better range. Lightweight scooters are also ideal for easy transportation. For recreational purposes, consider factors such as speed, range, features, materials, and cost.
Are electric razor scooters good?
Razor is a well-known brand known for its quality products. From personal experience, I can vouch for the durability and longevity of the Razor E100 electric scooter.
Why are some electric scooters expensive?
Expensive electric scooters are equipped with features that enhance performance. However, not all expensive scooters are worth the price, as some may rely heavily on brand name recognition.
Conclusion
In conclusion, the price of a Razor scooter can vary depending on the model and features. For budget-friendly options, the average cost of a standard Razor scooter is around $50 to $100. If you're looking for more advanced features and a comfortable ride, the electric Razor scooters range in price from $200 to $550.
These electric scooters are equipped with powerful motors, allowing for speeds of up to 15 miles per hour and a single charge that can last for several miles. Additionally, some models come with features such as LED lights and foldable designs for added convenience. Whether you're looking for a scooter for kids or an adult scooter for commuting, Razor offers a range of options to fit different needs and budgets.
Remember to check for customer reviews and compare prices to ensure you're getting the best deal. With Razor's price match guarantee, you can have peace of mind knowing you're getting a great value for your money.
Amazon and the Amazon logo are trademarks of Amazon.com, Inc, or its affiliates.